FORGOTTEN FOUNDATION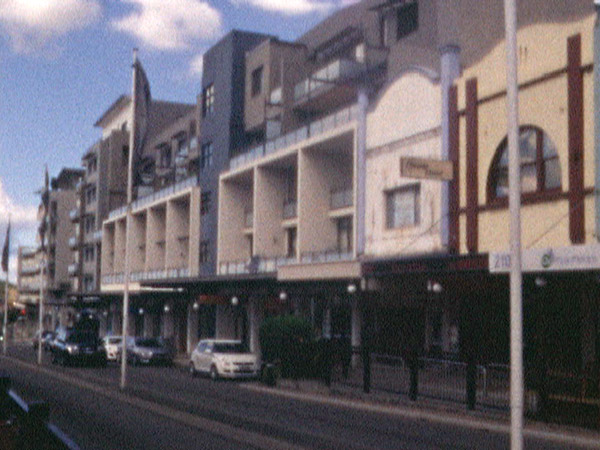 Production still from Forgotten Foundation, 2014.
A work in progress, Forgotten Foundation is an exercise in cinematic archaeology that pits the contemporary urban landscape against the ghosts of its recent past. The work uses footage of the demolition of Marrickville King's Cinema in 1971. This archival footage is matched with recently shot super 8 film that revisits the site some forty odd years later. Accompanied by a soundtrack constructed from musical shreds of the filmic past the resulting work occupies an uncertain space between the forensic and the elegiac.
Screening this weekend at Marrickville Garage, 28 Leofrene St Marrickville, Sydney.
On view: Saturday 1 March: 11 – 4pm & Sunday 2 March: 11 – 4 pm, followed by closing BBQ 4 – 6pm.
Forgotten Foundation is part of the Unknown Pleasures project.
VARIOUS DIFFICULTIES
My short film Various Difficulties is screening as part of the Sound Summit Cinema Loops program which is on at various venues in Newcastle, 27/9 - 30/9/12, details here. In case you aren't in Newcastle here is the film and notes.
Various Difficulties from Ryszard Dabek on Vimeo.
Shot on Super-8 in downtown Newcastle Various Difficulties is an exercise in communication, with the past and its ghosts. Featuring a soundtrack by Sydney based musician John Encarnacao the film is a fragment of a larger amorphous project titled Dissolution that seeks to uncover the submerged psychic fabric of the city. There are memories here, largely obscured and forgotten but still visible to those who look.
NATIONAL FILM AND SOUND ARCHIVE RESIDENCY 25/6 - 20/7/12
For the next month I am undertaking a residency at the National Film and Sound Archive in Canberra as part of their Scholars and Artists in Residence program. During this time I am undertaking a project titled Unknown Pleasures which investigates the lost cinemas of the Sydney area. The outcomes of this time will be a new body of video work as well as a body of writing that will situate my investigations within historical and theoretical context. I am keeping a blog of my time at the NFSA, that can be accessed here.
OPTIMUM VIEWING DISTANCE. INSTITUTE OF CONTEMPORARY ART NEWTOWN 27/4 - 13/5/12
Optimum Viewing Distance is an exercise in cinematic archaeology that uses a series of feature films shot in London in the 1960s as a psychic roadmap. The title refers to a sense of historical and geographical remove as well as the placement of the viewer within the installation.
The installation consists of a series of specially constructed viewing boxes that occupy an uncertain formal space; somewhere between minimalist sculpture and pre-cinematic viewing devices.
Each box houses a short film shot on super-8 in London during December 2011. Each of these films revisits the location where an iconic 1960s film was shot. The films: Repulsion, Clockwork Orange and Blow-up are inextricably tied to a particular location: Kensington Mansions, Thamesmead and Maryon Park. These locations are re-imagined through a pictorial and structural approach more aligned to the vagaries of memory and the logic of dreams than the narrative confines of the original films.
Documenatation of the installation can be viewed on the ICAN site.
EYELINE # 075
My article Runa Islam: Time After Time is included in the lastest issue of Eyeline (075) contemporary visual arts journal. Details here.
31/3/11 GODARD/CINEMA/DOUBT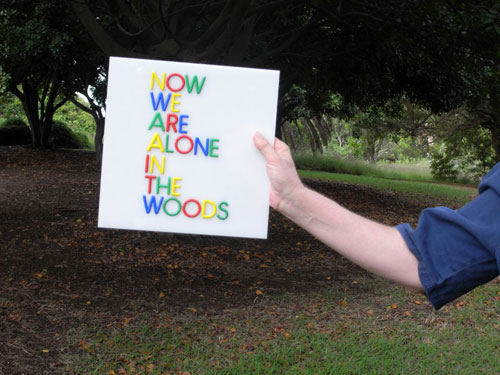 The above image was made when I was artist in residence at the Lock-Up Cultural Centre in Newcastle during February 2010. It is a production still from a film/video project that I am currently working on. A blog titled Dissolution for the project can be accessed here.
5/7/10: ARCHIVE INCOMPLETE
Site redesign! I have also added a page of documentation for the installation You Were There With Me which was at ICAN in November 2009.
Soon to follow are pages for recent shows:
Dreams That Money Can't Buy, SilKHouse Art Projects, Newcastle, 1-22 August 2009
Map/Ground/Grain, INFLIGHT, Hobart, August 1-22 August 2009
Species of Spaces, WEST SPACE, Melbourne 12 June – 4 July 2009.
The old front page of this site which has some nice invite images and a couple of sound works can be accessed here. Full site update: within reach.
Listening to: Ravedeath 1972, Tim Hecker
email : drifting at ryszard dot net : or click